Pre-book. Save. And Park with Ease.
With CAE's new pre-booking system, you can now pre-book your surface, garage or valet parking before arriving and get discounts on daily and weekly rates. Take the stress out of paying after your trip by pre-booking your parking. Pre-book. Park. And Save With Ease.

Customers who have an online/pre-booked parking reservation can find answers to our FAQ's here. Online parking is provided by MAG USA, if you would like to speak to someone about an online/pre-booked parking reservation, please call 803-973-7433 or email CAE@magusaparking.com
Pre-book your parking and save
On-site Parking Options
Surface Parking
1200 Available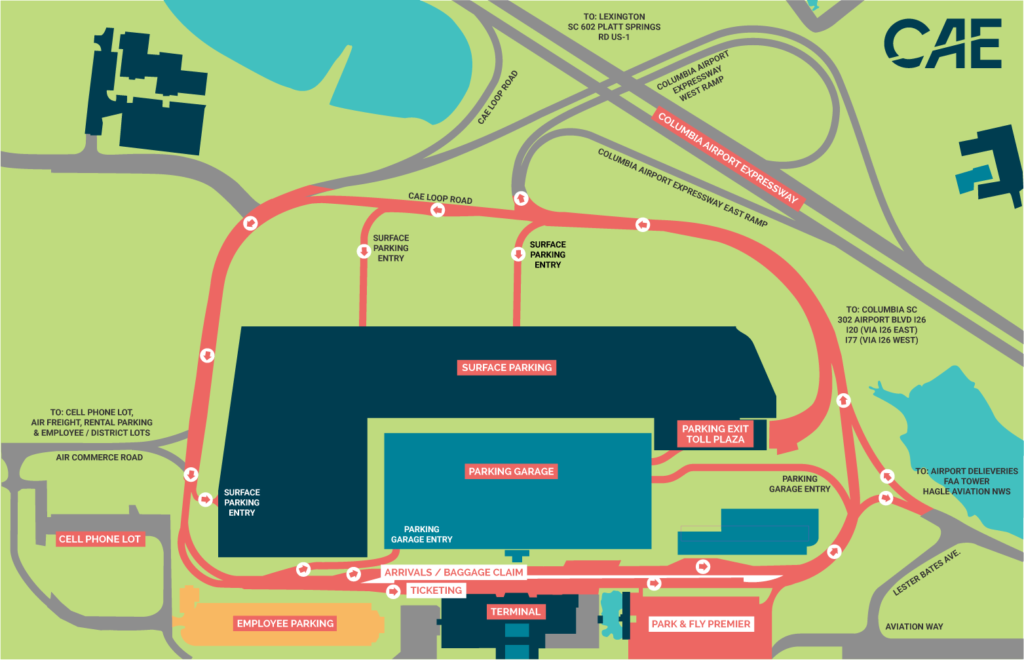 Garage Parking Rates
0-20 Minutes Free
20-40 Minutes $3.00
Each Addl. 20 Minutes $1.00
Daily Maximum $12.00
Weekly Rate $66.00
Surface Lot Parking Rates
0-20 Minutes $1.00
20-40 Minutes $2.00
Each Addl. 20 Minutes $1.00
Daily Maximum $8.00
Sign up for the Fast Lane Daily Rate $6.00
Join the Fast Lane with $6 Surface Lot Parking
The CAE Fast Lane program allows users to enter and exit the airport's surface parking lot with the swipe of a card and pay a discounted daily rate of $6. Submit an application and receive your Fast Lane Parking Pass.

Note: There is a 48 hour processing time and applications must be received at least two days prior to your scheduled travel date.
Premier Parking
Designed with the frequent flyer in mind, this limited-access lot offers flat-rate parking right outside of the airport terminal.

Available for $1,000 per year. Learn more.
Additional Information
Parking lots are open 24/7.
Please park in designated parking spaces only.
All vehicles parked in non-designated spaces may be ticketed or towed at the owner's risk and expense.
Vehicles parked in any parking lot for more than 30 days will be considered abandoned unless the customer has notified the parking contractor in advance. Abandoned vehicles will be towed at vehicle owner's expense.
Please stop by the Exit Plaza or call 803-822-8474 to make arrangements to leave a vehicle in the lot for an extended period.
Reef Parking manages the airport public parking lots. For any additional questions concerning parking, please contact Reef Parking at 803-822-8474.
*Fast Lane Members have parking fees automatically deducted from their credit card on file.
**Premier Parking Members are required to make membership payments in advance of parking in the designated lot.
Forms of payments
Cash
Visa
MasterCard
Discover
American Express
Diners Club
Travelers Cheques