The Columbia Metropolitan Airport (CAE) has partnered with University of South Carolina Athletics Department, to make the airport "The Official Airport of the Gamecocks." The partnership, made through the university's multimedia rightsholder LEARFIELD's Gamecock Sports Properties, will be in place for the next three years.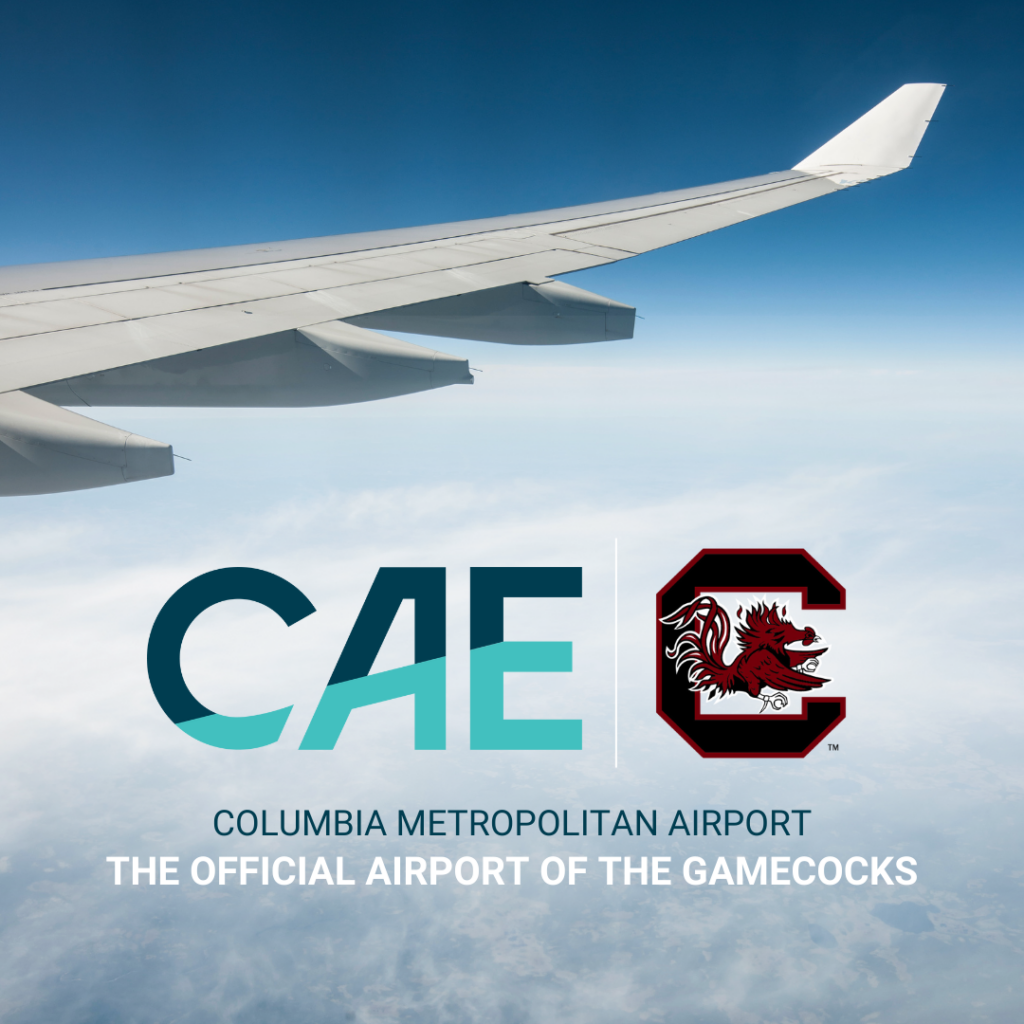 "We are proud to call the Columbia Metropolitan Airport the Official Airport of the Gamecocks," said Ray Tanner, University of South Carolina Athletics Director. "We appreciate their support as fans make their way to our campus for Gamecock sporting events."
With state-of-the-art technology throughout the parking garage and terminal, CAE's number one priority is making air travel as quick and efficient as possible for its passengers. Served by American Airlines, Delta Air Lines and United Airlines, CAE gets travelers from around the world to Gamecock Country…with ease. Now offering more than 25 daily flights to 10 major airports in nine cities, getting to Columbia through CAE is now even easier.
"We couldn't be more excited to work with Ray Tanner and the teams at the University of South Carolina," said Mike Gula, president and CEO of CAE. "Gamecock Athletics and the entire university are a huge tourism driver in the Midlands, and we look forward to continuing to serve fans from all over the country as they make their way to Columbia for game day."

About South Carolina Athletics
The University of South Carolina (USC), located in the capital city of Columbia, was established in 1801 and is a full-service, state-supported research university that includes the 358-acre Columbia campus and seven regional campuses with a total full-time student body population of more than 46,000 and 2,100 full-time faculty members. USC's athletic teams have been known as the Gamecocks for more than 100 years. More than 530 student-athletes participate in one of USC's 21 intercollegiate athletic programs, which includes nine men's and 12 women's sports. Since 2015-16, South Carolina's athletics department has averaged a Top 30 finish in the Learfield Directors' Cup All-Sports Standings, measuring an athletics department's overall success. For more information, visit www.GamecocksOnline.com or connect with USC at www.facebook.com/GamecocksOnline or www.twitter.com/GamecocksOnline.

ABOUT LEARFIELD
LEARFIELD is the media and technology company powering intercollegiate athletics. The company unlocks the value of college sports for brands and fans through an omnichannel platform with innovative content and commerce solutions. LEARFIELD services include trademark licensing and branding; collegiate sports properties' multimedia sponsorship management; NIL solutions; publishing, audio, digital and social media; data analytics and insights; ticketing software; and ticket sales, premium seating, and fundraising services; campus-wide business and sponsorship development. Since 2008, it has served as title sponsor for NACDA's acclaimed LEARFIELD Directors' Cup, recognizing athletic departments across all divisions.