Columbia Metropolitan Airport (CAE hereafter) celebrated American Airlines this morning as they began brand new daily service from Columbia to Chicago O'Hare International Airport (ORD).
"With the addition of this nonstop service at CAE, we now have seven destinations on American Airlines to offer passengers this summer," said Mike Gula, President/CEO at CAE.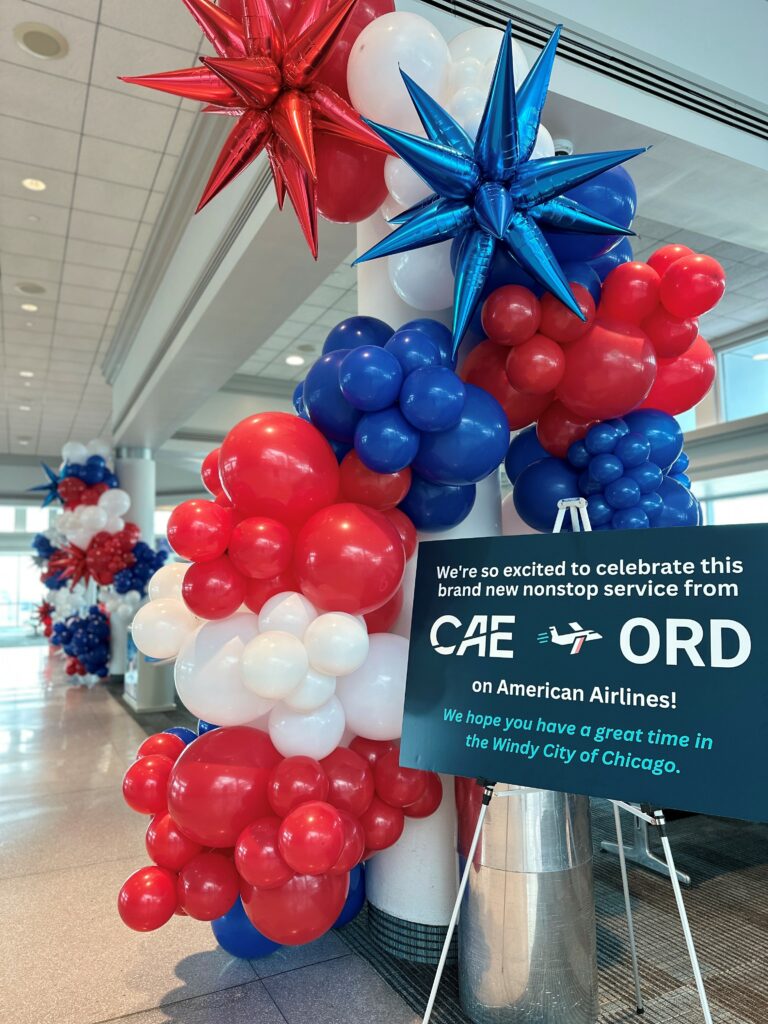 This inaugural flight for American Airlines is scheduled to depart CAE at 7:56 a.m. and arrive at ORD at 9:15 a.m. The aircraft used for this daily service is a CRJ-200, a 50-seat regional jet.
"American Airlines is delighted to start brand new nonstop service between Columbia Metropolitan Airport and Chicago O'Hare International Airport," said Philippe Puech, American Airlines Director of Short-Haul Network Planning. "With seven destinations from CAE this summer, American is excited to offer customers more ways to experience all the Palmetto State has to offer while providing local residents more access to American's global network."
Of the three carriers at CAE, American Airlines offers the most nonstop flights – having also just added daily service to New York City and seasonal service to Miami earlier this summer.
"This summer is projected to be the busiest summer in history for travel, nationwide, and the best part of that for CAE is that we are on-track this year to get back to our 2019 passenger numbers. This new flight to Chicago is going to help us do that," continued Gula.
To celebrate this new service, CAE had a large red, white, and blue balloon display at the gate and gave out Chicago-themed cookies and CAE sunglasses to all the passengers as they boarded the flight.
"With Chicago being voted Best Big City in the U.S. for several years in a row, we are so excited to offer our passengers an additional airline carrier to get them from Columbia to The Windy City" said Samantha Kingsmore, Marketing Manager at CAE.
Flights from CAE to ORD can be booked on the American Airlines website. For more information about this flight and the other nonstop destinations available at CAE, please visit www.flycae.com.