at Columbia Metropolitan Airport (CAE)
---
As of July 21, 2021:
Columbia Metropolitan Airport is a GBAC STAR™ Facility
The Columbia Metropolitan Airport is pleased to announce that it has earned the accreditation of being a Global Biorisk Advisory Council® (GBAC) STAR™ facility. This recognition commits CAE to maintaining the gold standard for facilities…Travel with ease knowing that your local airport is doing everything and more to keep safe while flying.
Travel Notice
Passengers flying into or out of Columbia Metropolitan Airport are not required to have a COVID-19 test. Masks are strongly encouraged, as well as the request to adhere to all social distancing guidelines in place throughout the airport.
Statement from Columbia Metropolitan Airport:
With the recent outbreak of Coronavirus, identified as a respiratory disease, the Columbia Metropolitan Airport (CAE) has been closely monitoring updates issued from the Centers for Disease Control (CDC) and the Department of Health and Environmental Control (DHEC) to remain as up to date and informed on the status of this disease as possible for our travelers.
Public health experts recommend the following best practices to increase the likelihood of preventing illness:
Washing hands frequently,
Avoiding contact with people who are sick,
Staying home when sick and
Cleaning and disinfecting frequently touched objects and surfaces
At CAE, we too are taking extra precautions to include:
Increased sanitizing in the public seating areas
Deeper and more frequent cleanings in the restrooms
Hand sanitizing stations are available Pre- and Post-Security Checkpoint
Offering free masks to all of our travelers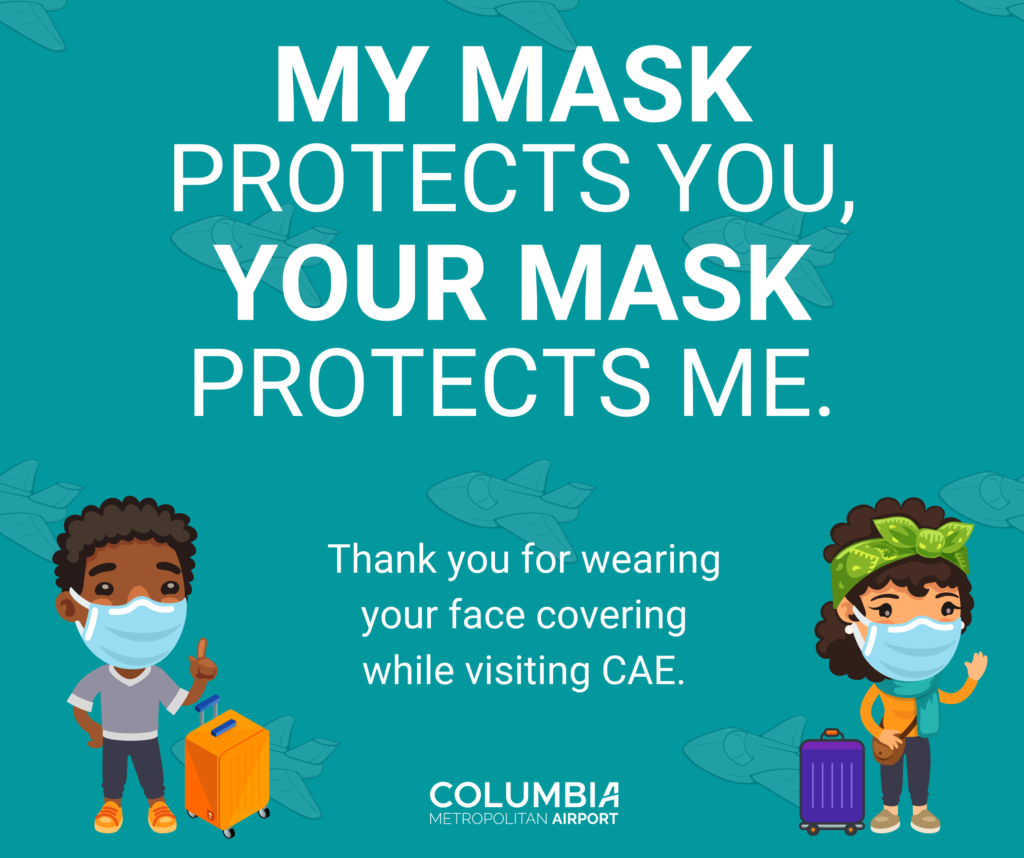 Should you have any concerns regarding flying or the status of your flight, we encourage you to check with your airline directly. For more information on the virus and precautionary measures in place please visit the Center for Disease Control's website. Should you have any questions, please send us a message.
Airport/Tenant Closures, Temporary Hours, Reduced Service Updates:
Republic Parking, the parking service company in place at CAE, will discontinue valet parking services until further notice.
Carolina Concessions, CAE's food service provider, will temporarily close The Sky Café, Carolina Subs and The BBQ Pit until future notice. Riverbanks Bar & Grille will remain open with a modified and limited menu. Additionally, signage has been put in place encouraging travelers to practice social distancing while dining.
Paradies, CAE's retail shop provider, will have adjusted hours at all three locations. Columbia Travelmart, the bookstore, will now be open from 4:30 am – 7:30 pm or when the last flight boards. News & Gifts (in the main lobby) will be open from 4:30 a.m. – 5 p.m. and Capitol Marketplace (in the Delta gates) will be closed until further notice.
Finally, USO at CAE has discontinued volunteer services at the information and welcome desk until further notice. Should any traveler have any questions or need anything, they are encouraged to call 803.822.5050.
Airline Updates and Information:
We encourage those individuals who are traveling to stay updated on the latest news and developments from their airline of choice. Direct links to the airlines that service Columbia Metropolitan Airport are below.